CERC-ling the Wagons: How Bronx Moms Helped Shape Needed Services
For any parent, finding out your child has disabilities changes your world forever. For a pioneering group of five women in the Bronx, Mary Bonsignore, Mary St. Mark, Dorothy Stone, Nellie Velez and Anna Mae Vener, the children who changed their worlds led them to the herculean undertaking of altering the world around them, so they could make a place for their children and others like them to live, learn, love and laugh – instead of being locked away in an institution.  Mary St. Mark's son, Michael, was born in the early 1960s. She began to suspect something was wrong when he wasn't talking like other kids. "He wasn't saying papa, dada, or anything. I actually thought he was deaf," she recalled. "I kept asking the pediatrician 'What is wrong with him?  Continue reading..
—————————————————————————————————————————–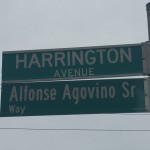 On Saturday, April 29, 2017, Harrington Avenue at Mayflower Avenue was renamed Alfonse Agovino Sr. Way. Al was a long time Bronx DD Council family member and a strong advocate for individuals with developmental disabilities. Congratulations to the entire Agovino family on this wonderful honor!